Good News! 
We will draw 10 lucky customers from all customers who placed orders from July 7th to July 17th! 
🎉
🎉 
They will get their order for free.
(we will refund their money after the goods are delivered) 
First Realistic Wagging Fish Toy With Smart Motion Sensor and Built-in Rechargeable Battery. Selected and voted as best interactive toy of 2020 and most popular toy of the year by more than 10,000 happy customers. 
Want To Treat Your Cat?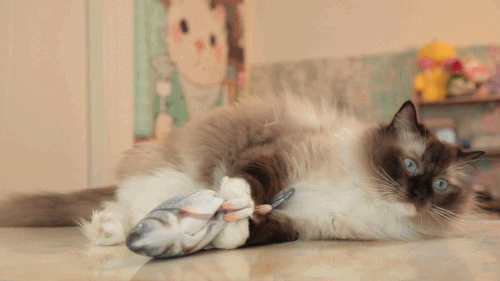 Cats LOVE it & it's Super FUN For ALL the Family Members Because of it's Funny Tail Movements! 
Add fun to the cat. It is suitable for all kinds of cats. This is a cat's favorite toy 
FEATURES
 Easy USB Recharging

 

- NO More Wasting Batteries!
Easy USB Recharging-With 3D printing technology, lifelike fish shape design, soft and lovely, perfect size, easy to hit and carry.
 Motion Detecting Motor Inside-The tail of the fish will swing to attract the cat's attention and stimulate the cat's natural hunting
Refillable Catnip Pouch-Mongoose is a kind of herbal medicine. It smells cold. It's a plant that makes cats happy and crazy and increases their activity
Cats' favorites-Add fun to the cat. It is suitable for all kinds of cats. This is a cat's favorite toy
Treat your cat to the best cat toy of the year. It flips, flops and wiggle just like a real fish. is designed to keep your cat engaged and active and provides hours of fun and entertainment. Rechargeable battery lasts for 3 days. It has a built in motion sensor that activates the fish when your cat is near it and stops to save the battery when it is not touched after 30 seconds.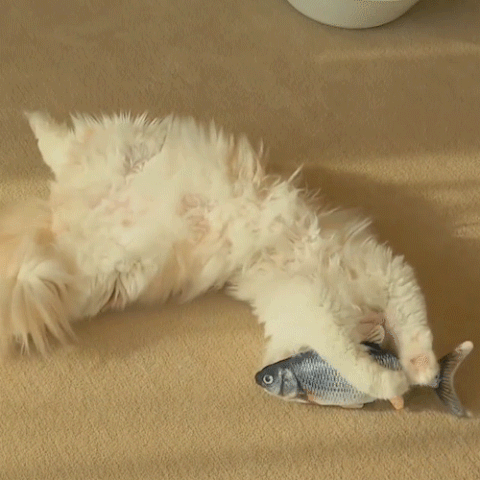 Motion Detecting Motor Inside - Kicks Just Like a REAL Fish When Touched. Stops Itself When Left Alone. Length: 11 inches (30 cm). Once the fish is charged and turned on, the flopping movement is activated by a motion sensor that is inside the fish.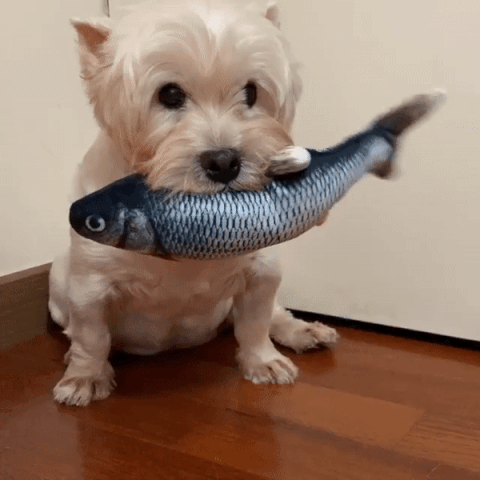 Did you know cats get depressed too?  
Cats actually show signs of being clinically depressed, in a way that affects their physical health and quality of life. Cats become depressed through a lack of stimulation. This realistic fish is designed to keep your cat active and healthy.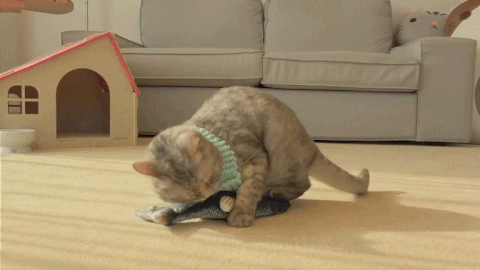 Boredom is a trigger of depression for cats and humans alike! Increased periods of playtime is recommended by vets to avoid depression in cats.   can help you solve all these problems, and give you an active, lovely and healthy cat.  has three modes of vibration to keep your cat engaged and entertained for hours. 
Gift Set!
The patented PET Hair Removal Superstar helps to remove hair, hair and dust from clothes, coats, blankets and more.
🐾
PROPERTIES:
When washing and drying, remove animal hair from clothing and clothing.
No need for a second wash to get rid of your hair - you save water, money, time !

Reusable, anti-allergenic, harmless to children's clothing

Material: PU

Size: 12cm x 12cm x 2cm
The paw is very flexible and sticky enough to coat hair, hair and dust. The movements of the washing machine or the dryer help the lint-paw that the unwanted hair stick to it, especially when spinning.
 100% money back guarantee.
Freight>>Provide Global Express
Estimated delivery time: 2-4 weeks (other countries/regions)