Playing basketball at night can get a little tricky, since the darkness makes it a bit tough to see exactly where the rim is. Luckily this company has made a motion activated LED strip that you can attach right to your existing basketball rim and have it light up when you make a basket it, giving yourself that ultimate feeling of being in a video game while you shoot hoops!
Not only is the Hoop Light a great way to see the your hoop at night when playing basketball, but the light-up LED lit rim attachment will make playing hoops at dusk or night even more entertaining. The Hoop Light offers 100 unique LED patterns, and will light up with a unique pattern every-time you make a basket.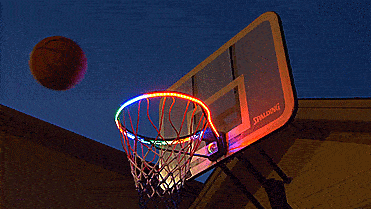 How it works is, you simply zip-tie the LED strip around the perimeter of your rim, velcro the sensor box underneath the rim (which will detect your baskets made), then just Velcro the battery case behind the backboard. Once setup it will just automatically turn on when you start making baskets!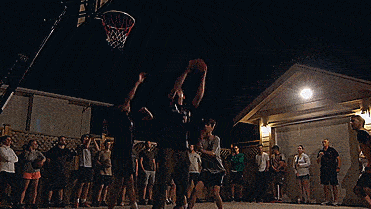 The Hoop Light is completely waterproof so no worries about it staying out in bad weather, it easily installs in just a few minutes, and has a long-lasting battery technology which will enter it into low-energy mode when not in use to save power. The LED basketball rim light is powered by 4 rechargeable (or regular) AA batteries.